Indah Sejahtera Development & Services Sdn. Bhd. (ISDS) is a 100% Bruneian owned company registered under companies act in June 1999 and is managed professionally by an excellent management team. Indah Sejahtera is in the business of providing Information Technology Services to both the Government Departments and Private Sectors in Brunei Darussalam since 1999.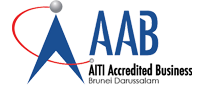 In September 2010, Indah Sejahtera attained the AAB Status which is one of AITI's effort to promote industry development through accreditation of Brunei Darussalam's home grown ICT industry businesses. This accreditation provides that Indah Sajehtra maintains a minimum level of Technical, financial and commercial strength and basic competency. 
 In October 2011, Indah Sejahtera got the ICTAB qualification from AITI to Participate in the Government Tenders. ICTAB status is the requirement to ensure that Government ICT Projects are carried out successfully by competent ICT vendors. As such, The Authority for Info-communications Technology of Brunei Darussalam (AITI) has developed the ICT Accredited Business (ICTAB) initiative for ICT businesses to be accredited as a prerequisite before participating in any Government ICT tender projects.This is further classified into several classes based on the businesses' local ownership structure, financial strength and manpower capabilities..
Indah sejahtera for your simple IT solution...