HAJI BAHARUDDIN BIN DATO PADUKA HAJI TALIB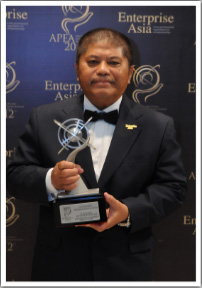 Hj. Baharuddin Bin Dato Paduka Hj. Talib is the sole managing Director of three reputable Bruneian companies who are major players in the fields of Design Engineering Consultancy and Advisory Services and Information Technology. He is also the Chairman of a newly established Engineering Consultancy firm, BCE Associates Sdn Bhd in Malaysia in 1998.
In 1996, he also founded Syarikat Indah Sejahtera Develoment & Services (ISDS) in meeting client's Information Technology (IT) requirements through innovative, strategic and quality deliverables via a systematic approach. ISDS forms strategic partnerships and alliances with internationally experienced IT Companies to ensure both knowledge and technology transfer. ISDS is currently involved in multi-million tenders from the Brunei Government for their information technology projects.
For thirteen years before 1992, he served the Brunei Government in various capacities such as Senior Staff Specialist in the Ministry of Development for six years being tasked with the following areas: Overall training function of the departments under the Ministry of Development, Entrepreneurial Development and Project Management Assistance to the local contracting enterprises and Resolution of Contractual Disputes and Claims.
He received his ASEAN Pacific Entrepreneurship Award 2012 for his excellency in the entrepreneurial skills in business.

HAJI TALIPUDIN BIN DATO PADUKA HAJI TALIB
 Haji Talipudin  joins the company as a Director of Operations and Quality in 2010. Before that he was working with Bruneian Govt. in the Ministry of Education dept as a Director of the Department of Planning & Estate Management. He was responsible for the building construction, renovation & upgrading works and also the maintenance of the Ministry of Education schools, offices and housing building. The department has 200 staff consisting of engineers, quantity surveyors, technical and administrative supports. During this period department is involve in a major project call the "Building Improvement of Schools and Infrastructure" (BISAI) costing about B$500 million.
 Some of the Executive positions he held in the Brunei Govt.
Director of the Department of Technical Services, Public Works Department, Ministry of Development.
Head of Research and Development, Ministry of Development.
HAJI MOHAMMED BIN DATO PADUKA HAJI TALIB
Haji Mohammaed is a Serial Technopreneur and Green Agent Provocateur. Since 1999 he is serving as a Director for IT operations in all the 3 companies. And he is the Executive Director of the IT wing – Indah Sejahtera.
Earlier he was heading a project "Padian.com" the ecommerce platform, industry clusters and expertise with a complete suite of business-2-business solutions which will help you manage your value chain such as outsourcing, procurement etc.  The project was initiated by the Brunei Economic Development Board with  the objective to promote Brunei companies via an online B2B platform. Padian.com is Brunei's 1st Business-2-Business portal which is the foremost commerce service provider and operator of the leading electronic hub in Borneo. Padian.com is the best positioned to bring business advantages and efficiencies of trading online.