ROBOGARDEN, A Fun & Easy Way to Learn Coding
RoboGarden is an easy to understand, hands-on educational web app where students take part in active learning, RoboGarden teaches children or adults the fundamental concepts of coding/programming.
The interesting part about Robogarden is that it teaches you concepts of coding through fun and challenging games.
It also teaches users about STEAM (Science, Technology, Engineering, Arts, and Math).
Syarikat Indah Sejahtera Development & Services Sdn. Bhd. is the country distributor of RoboGarden in Brunei Darussalam.
Learn more about RoboGarden
---
What is RoboGarden?
- An easy to understand, hands-on educational app where students learn by doing. RoboGarden™ teaches coding literacy without the need for a tech guru for guidance
- A curriculum designed platform, providing continuous development from year 1 through 12
- A cloud-based program that operates through your browser software
- A foundation for a prosperous future
What is RoboGarden's Objective?
Prepare students for the future.
Today, the accelerating shift to knowledge-based employment, particularly in STEM (science, technology, engineering and mathematics) fields, means there will be an increase in the need for computing jobs and a decrease in human labour intensive jobs. In the near future, Coding to Control will be an area of significant employment opportunities. In this rapidly changing environment, schools are challenged to prepare students for this reality. RoboGarden™ is designed to bridge this need as an integrated solution.
Why RoboGarden™?
Robogarden allows your student or children to learn valuable skills while having fun. It's not just mindless gaming, it stimulates the mind to think while teaching the user to problem-solve. RoboGarden™ builds persistence and tenaciousness among youth, traits which are not difficult to emphasize in traditional educational settings. Through RoboGarden™, users learn the concepts of control.
The knowledge and skills gained through RoboGarden™ positions these learners in a more advantageous setting in the future as employees or entrepreneurs. The US Bureau of Labour Statistics projects that software developers will enjoy a 17% job growth rate between 2014 and 2024 - much higher than the 10% average across all jobs.
RoboGarden™ provides a learning process that encourages trying until you get it right. Failure is never final!
How does it work?
- The Web app uses Cloud-based technology that operates through the user's Internet browser.
- Beginner levels utilize Drag and Drop Coding Blocks to teach concepts.
- Advanced levels replicate the structure of the introductory levels while instructing in textual languages such as Python, JavaScript, etc.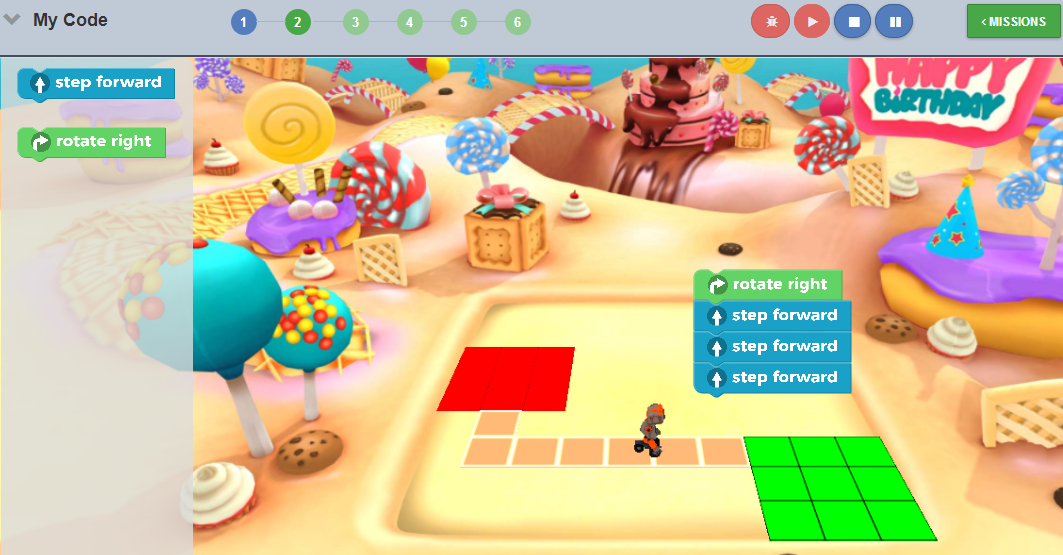 How it is organized?
- Each module/course is called a Journey
- Each Journey is divided into lessons, called Adventures
- Each Adventure begins with brief tutorial video with a quiz, followed by a series of Missions and finally an Adventure quiz
- Progression is sequential
Mission
The "mission" is the unit of learning in RoboGarden. In each mission, the learner is asked to perform a task by coding. After submitting the code, RoboGarden™ evaluates the code and provides the learner with immediate feedback.

Adventure
The "adventure" is the lesson in RoboGarden.
Each adventure has a set of intended learning outcomes. Each adventure is composed of five missions. The tools used in these missions are covered in a tutorial. The learner must pass a quiz which evaluates the concepts covered in the adventure.

Journey
The "journey" is the course in RoboGarden. A RoboGarden™ "journey" consists of eight "adventures". Over the course of the "journey", the student will learn various key coding concepts and apply them to math and science scenarios.

World
The "world" is the environment of the "journey" in RoboGarden. Each world is composed of a story line, objects, and visuals. This engages the learner and enables introducing supplementary knowledge of objects in different environments.
How much does it cost?
Annual Subscription is 180.00 BND (1 Year)
Quarterly Subscription is 48.00 BND (3 Months)
Monthly Subscription is 17.00 BND (1 Month)
How to subscribe?
Step 1.
Download the registration form from https://www.i-s-d-s.com/downloads/RGSOFi.pdf
Step 2.
Fill-up the form and facilitate the payment via our office or direct bank deposit/transfer. The payment instruction is indicated in the subscription form, simply follow the instructions to complete the payment process.
Step 3.
Send the filled-up form to

This email address is being protected from spambots. You need JavaScript enabled to view it.

along with a screenshot of your proof of payment (deposit slip/transfer), or you can also drop by our office to submit the form physically.
Step 4.
After we have received your details, a confirmation email will be sent to you within the next 24 hours, this email will contain your subscription & account details and further instructions on how to access your account with RoboGarden.
How to get support?
You can contact us at This email address is being protected from spambots. You need JavaScript enabled to view it. for any technical or operational issues.
We will also add subscribers to our private WhatsAPP Chatgroup where we can assist you and help you solve any issues.

Support will be provided during office hours:
Monday thru Thursday :  8:00 AM - 5:00PM
Friday :  8:00 AM - 12:00 Noon / 2:00PM - 5:00PM